RZK-400H / 300H Bulk Spreaders
---
Industrial fertilizer spreaders are designed for spreading mineral granular fertilizers, but also for winter sprinkling of roads with loose materials and salts. In the basic version, the spreaders are equipped with a polyethylene hopper for 180, 300 and 450 liters. The container is made of highly durable Canadian polyethylene. The frame of the spreader of tubular construction is protected by high-quality powder paint. The drive of the spreader's working mechanisms is transmitted from the tractor's water shaft by means of a cardan shaft. As an option, the spreader can also be equipped with a hydraulic motor drive for the spreading disc. The spreading and dosing device of the spreader is completely made of stainless steel. There are 6 stainless steel blades on the spreading disc, which are adjustable to 5 working positions, according to the used spreading material. Control plates controlled by control rods are used to regulate the dose and the direction of spreading. For precise dose setting, the control is equipped with a scale 0-9, which is used for stepwise opening of the dosing holes. The two-lever control mechanism allows either spreading over the entire working width or only to the right or left. The control mechanism can be equipped with a hydraulic ON / OF locking system. The machine can be aggregated with all types of compact tractors equipped with a three-point hitch ISO 730 / 1N. For compact tractors TK-12, TZ-4K-14 and MT8-132.2, the machine must be aggregated using the FDZ-187 hitch. The standard equipment includes a screen for winter spreading.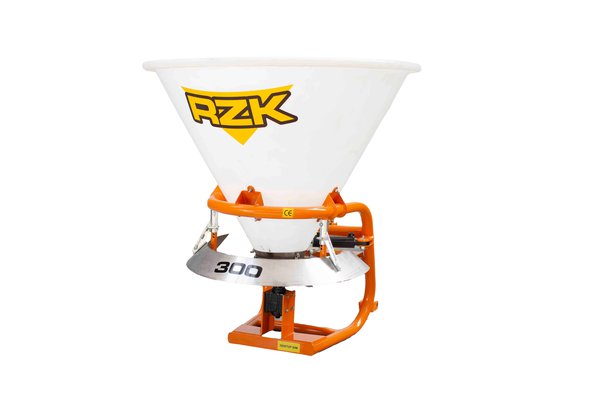 Are you interested?
Send us a non-binding request and we will get back to you.
If you have additional questions, contact us or come to our showroom in Prostějov.
Shop Šálek s.r.o.
Vrahovická 2527/5
796 01 Prostějov
Download