---
The earth auger APV-175 is designed for earth boring in cohesive soils without bigger stones. It makes easier works at tree planting and landscaping, setting of fence posts etc. A basic part of this earth auger is its framing with a U-shaped support. Its gearbox with bevel gearing is hinged on the rear frame edge. The own drilling auger is installed on the gearbox output shaft. The power itself is transmitted from the tractor PTO shaft through a cardan shaft. The bearing frame is to be attached to the tractor instead of the third point and its support to both lower arms of the three-point hitch. Bore sizes depend on used drilling augers. Standard earth augers are supplied with drills with diameters of 200, 300 and 400 mm. Drilling depth can be adjusted by means of adjustable bars on the gearbox. This earth auger can be coupled with all types of small tractors equipped with the three-point hitch ISO 730/1N. In case of tractors TK-12, TZ-4K-14 and MT8-132 it is necessary to use the quick-coupler FDZ-187. The earth auger can be mounted both on the front and rear three-point hitch. Thanks to its design the auger is almost maintenance-free.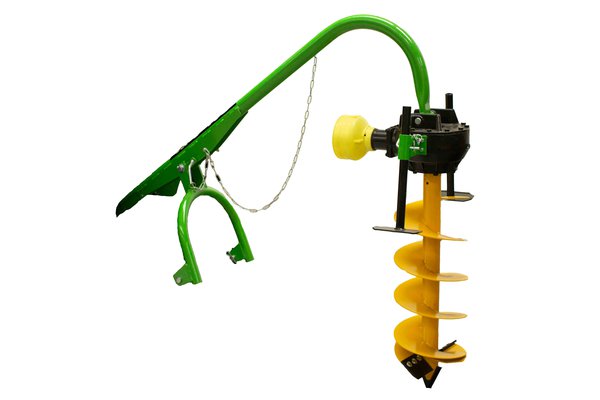 Are you interested?
Send us a non-binding request and we will get back to you.
If you have additional questions, contact us or come to our showroom in Prostějov.
Shop Šálek s.r.o.
Vrahovická 2527/5
796 01 Prostějov
Download