AKR-140 / 120 / 100 Rotary Tiller
---
This rotary tiller is used for mechanization of field works on smaller pieces of land and for municipal services with utilisation especially in vegetable farms, gardens, arboriculture and 
fructiculture, for soil preparation, soil mixing with manures or composts, field weeding and hoeing of wide-row crops. The model AKR-100 with its operating width of 100 cm is designed for compact tractors with power output less than 14 HP, such as TZ-4K-14 and TK-10. This implement can be coupled with all types of compact tractors equipped with three-point hitches ISO 730/1N. In case of tractors TK-12, TZ-4K-14 and MT8-132.2 it is necessary to use the quick-coupler FDZ-187. The tiller is powered by the tractor rear PTO shaft. From here the power itself is transmitted by a joint shaft.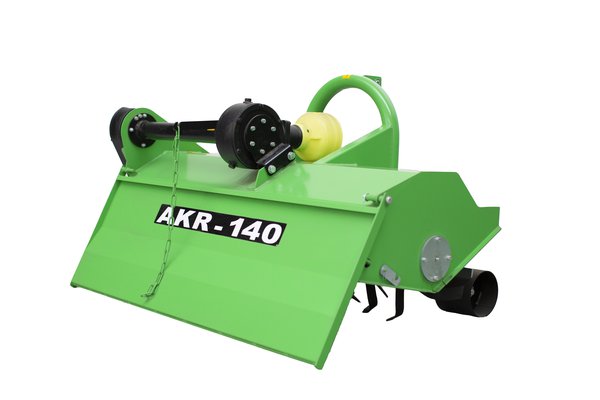 Are you interested?
Send us a non-binding request and we will get back to you.
If you have additional questions, contact us or come to our showroom in Prostějov.
Shop Šálek s.r.o.
Vrahovická 2527/5
796 01 Prostějov
Download