BISON UP-1500 /1250 Mulcher with Collection and Lift
---
The BISON UP 1250 / 1500 with collecting and lifting mechanism is a compact and versatile machine. The mulcher is aggregated with compact tractors equipped with a rear three-point hitch ISO 730/1 and a power exceeding 25 kW. 

It is especially used for: 
-for surface mulching with the possibility of collection (collected grass can be used for feeding) 
-mulching of grass and leaves 
-collection of leaves, grass 
-cleaning of parks, orchards, sports grounds, public and urban greenery 
-crushing and harvesting potato stalks 
The mulcher is equipped with a rotor made of high-grade steel, which is dynamically balanced. The rotor is equipped with 40 or 72 heat-treated knives, which are shaped so that there is a better suction effect and a better filling of the collection basket. Tilting and closing the basket is controlled hydraulically directly from the compact tractor. The hydraulic cylinder is double-acting, which allows you to leave the basket open and not collect mulched material. The mulcher is driven by a PTO shaft with a coasting clutch, which connects the shaft of the tractor drive mechanism to the mulcher.

Warning! The mulcher is not designed for soil cultivation.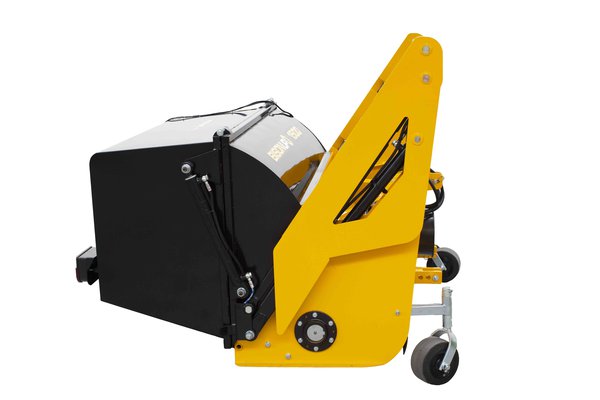 Are you interested?
Send us a non-binding request and we will get back to you.
If you have additional questions, contact us or come to our showroom in Prostějov.
Shop Šálek s.r.o.
Vrahovická 2527/5
796 01 Prostějov
Download