BOBR 75 / BOBR 75 Transport Wood Chipper
---
BOBR 75 and BOBR 75T wood chippers can be used during liquidation of wood (branches, whole trees, etc.) after logging and cleaning of forests, parks, gardens and river basins or the processing of construction or carpentry waste. The result of the work of the chipper is heating wood divided into pieces of 6 to 10 cm up to max * 80 mm. After drying, the blocks are used to for all solid fuel heaters. The chipper is equipped with two three-knife drums connected by gears. During the rotating of the drums, the blades of a pair of knives approach each other at a minimum distance (0.2 mm) and press to separate the mass into blocks. By the retracting effect of the knife kynematics, the wood mass is automatically drawn into the shredder. The knives are made of quality steel and they can be separated. The BOBR 75T chipper can be hung behind compact tractors with a three-point hitch of category 1N with a minimum output of 4 kW. A part of the chipper is also a hinge for connecting the semi-trailer behind tractors. The BOBR 75 Transport wood waste chipper is equipped with a belt conveyor, which ensures the transport of blocks directly to the body.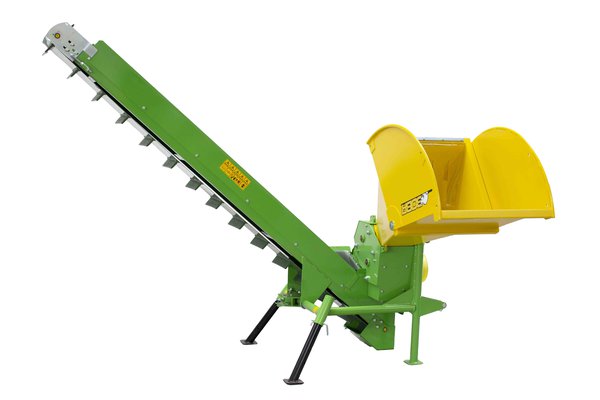 Are you interested?
Send us a non-binding request and we will get back to you.
If you have additional questions, contact us or come to our showroom in Prostějov.
Shop Šálek s.r.o.
Vrahovická 2527/5
796 01 Prostějov
Download